I know we're already 5 months into 2015, but I think I'm finally, finally, finally ready to make a stance on what my top 10 films of the year were. Keep in mind, there are still several films I have not yet seen, but, at this point, I don't think they'd affect this list.
2014 was a pretty interesting year for film. Some of my favourite films were movies I never expected to love as much as I do, and other films I was highly anticipated turned out to be a bit of letdown (though still good movies). It was the first year I saw all the Best Picture nominees in theatres, plus seeing tons of other films in theatres.
Note that I have not still seen: Obvious Child, the Babadook, Force Majeure, Starred Up, A Most Wanted Man, Mommy, The Judge, The Hobbit.
Honorable Mention
The Lego Movie
The Lego Movie was extremely close to making it in here. Really, it was. And maybe it is "better" than some of the movies on my list, but this list is a definite mixture of personal preference and how well-made a film is. And while Lego Movie is definitely a fun watch, there were still films I would pick over it. Chris Pratt was absolutely perfect to voice Emmett and I sincerely hope that things like Jurassic World and whatever else he's doing won't ruin how awesome he is. As well, Nick Offerman as Metalbeard, plus the plethora of other celebrity voices is so much fun.
X-Men: Days of Future Past
I'm not generally one for superhero films, but the X-Men movies have never felt like superhero films to me! X-Men has always been about outsiders, debating whether they should try to "fit in" or whether to be proud of how they're different; as well as the conflicts the government, and the world, has about their powers. It's never directly about "world domination" but more a threat of extinction or the mutants being treated like animals. DOFP was such an excellent film that you can overlook any of the plot holes (of which there are obviously quite a few. Time travel films just have them). It's such a fun watch, and really builds on First Class, with a memorable cast and great performances. Plus, that Time In A Bottle sequence... has Marvel ever done anything as good as that scene?
Top 10
10. Interstellar
This is a film that didn't initially make the list. After seeing it in theaters, my feeling was that I enjoyed it, but that ending kind of just ruined it. Upon second viewing, I realized how much I really did love the movie. McConaughey is really great, as is Hathaway and Chastain, plus Mackenzie Foy as young Murph. But it's such an emotional film, and it was balanced really well with the science and exploration side of things, never leaving it feeling like it was trying too hard to make you "feel" but it felt like a human story. While I'm still not a fan of the ending (not that I'm sure how I'd end it either. And while the blackhole sequence is too weird, I do enjoy that the actual ending is left somewhat ambigious), and I would've ranked the film higher up had the ending been better, but it's still a solid film that is well shot, scored and acted. Also, I so wish I hadn't known ahead of time that (spoiler) Matt Damon (end spoiler) would be in this. It was meant to be a surprise, but I had heard about it ahead of time, which I wish I hadn't.
9. The F Word
Yes, I do enjoy the odd romantic comedy. And this one certainly is somewhat odd. I've been looking forward to the films of any of the Potter alumni and was very interested once I heard about this film that Daniel Radcliffe would be in. I got even more interested after I watched Ruby Sparks and saw how great Zoe Kazan is. But The F Word is well written and just a fun movie. It definitely treads into some cliche areas, but for the most part, it plays everything well and refreshingly. The dialogue was sharp and witty, but it never felt unrealistically witty (like any of John Green's novels) and Radcliffe was so good that I feel like he was essentially just playing himself for this role, because he just seems so believably witty. Anyway, I know most won't agree with this choice, but this is my list, so ha! This was a movie I enjoyed, and was glad I liked it as much as I did. Maybe not the most critically acclaimed, but it's a fun romantic comedy with some great writing.
8. Locke
Locke is a film I didn't expect to love as much as I do. In fact, I didn't think a lot of it before I saw it. I simply placed a hold on it at my local library, knowing it was Tom Hardy and that I had heard general good buzz. I honestly didn't ever truly know what it was about, and thought it would be more of a thriller. But this film was such a treat. It really secured, in my mind, what an absolute talent that Tom Hardy is. He's absolutely compelling as Ivan Locke, the man driving to I-won't-spoil-where, making phone calls all the way along, to explain to his family why he isn't coming home. While I mainly love it because Hardy gave my favourite performance of the year, it's also such a compelling and moving story. It's been hard to urge others to see it as it boils down to saying "it's about a guy who's driving to somewhere I can't tell you because I won't spoil it and he's making lots of phone calls". Like, it doesn't sound the most interesting. But it was completely absorbing and shows what a chameleon Hardy really is.
7. Boyhood
In all honesty, after the first viewing of Boyhood I thought I would be placing this film a lot higher. This is still a film I truly do love and think it's so authentically made. I love diving into people's lives for a while and just seeing the mundane. The first half of the film is the better half, for me, and should've been explored a little longer, and the second half explored a little less. The scenes of Mason when he's older aren't as interesting as his childhood scenes, but it's easy enough to forgive because all of it is well-executed and is swimming with authenticity. I know most people were talking about Patricia Arquette (for good reason, she was great), but it was Ethan Hawke who really stuck with me. He made it look so natural, and I really believed that he was this father who, initially, didn't try, but ended up with a better life, in the end. And while I would've liked to have ranked this higher, I feel so many of the films before it were just as good in different ways, and films that I became more passionate about. Boyhood is still full of charm and realism and is such a special film.
6. Birdman (or the Unexpected Virtue Of Ignorance)
Similar to Boyhood, I had slightly different views of where this would land in my top 10. And originally, I didn't think this would be included. Birdman was a film I didn't get really into upon first viewing and found myself just sort of shrugging about. I had a lot of respect for it, but that was kind of it. However, second viewing seemed to bring something else. Second viewing allowed me to watch it with the view of knowing how it ends. And the amount of detail that I noticed, and the amount of deliberation was incredible. Every single thing, every line, word, look, and tiniest of the tiny props, all feels very deliberate and planned. And that is what connected with me. Birdman feels very intentional about where exactly it goes, and nothing at all is an accident. It's filled with fantasy moments but also filled with realism. We're never sure what we, the audience, exactly are experiencing, but that's what makes it so fun. Birdman has fantastic performances (and honestly, I feel like Keaton was almost outshined by Emma Stone and Edward Norton), a perfect score and fantastic cinematography (all of which are so deliberate in detail as well!) A deserving, if unconventional, Best Picture win. But we need more unconventional wins.
5. Snowpiercer
Once I saw the trailer, I immediately knew I wanted to see this movie. And after I saw it, I was sad that not enough other people had seen it. Snowpiercer is fantastic in the sense that it is everything that people love about YA films right now, but it's more violent, explicit and R-rated. It goes darker than most YA films and gives a much different ending than most would expect. Which is exactly why I love it. And it sucks that it didn't get even close to a wide release. I love Chris Evans in this. He plays such a range of emotions, and he's at his best when he's heart-broken and furious at the same time. It's well written and directed and I'm incredibly grateful to Bong Joon-ho for insisting to keep his cut of the film and resisting the severe cuts that Harvey Weinstein wanted. The film is so much better for it.
4. The Grand Budapest Hotel
Wes Anderson has quickly become my favourite filmmaker. His films are quirky and funny and well acted. They are perfectly my sense of humor, being dead-panned with lots of quirky and weird characters. While the Grand Budapest Hotel isn't my favourite film of his, it's definitely a fantastic one still, and he's assembled a great cast. Ralph Fiennes is another one of my years-best performances, and his being left out of the Oscar race was disappoiting. His line delivery is spot-on for Anderson's style and you can tell he's having so much fun. As well, I can't be more glad that Alexandre Desplat, my all-time favourite composer, finally won his 1st Oscar, and it was for this glorious score. Desplat and Anderson go perfectly together, and the score was as much a character of this movie as anyone else. This movie is funny and quirky and straight up my alley.
3. Gone Girl
If Wes Anderson is my favourite filmmarker, David Fincher may just be my second. As I've stated before, it's taken a while to warm up to his style, but man, I love the direction he takes and how much trust he has in his audience. Fincher never treats the audience as stupid and never hands out clues. He operates under the impression that everyone is paying attention (as they should be). Gone Girl was a pretty good book but Fincher turned it into a gripping masterpiece. It is the perfect material for Fincher and he really knocked it out of the park. Even though I knew what was coming, having already read the book, I was still gobsmacked by how well it was all put together. I remember all the naysayers for the casting of Ben Affleck, but I could go on and on about how perfect that casting was. Affleck channels the criticisms he gets for being phony and smug and uses that to give a career-best performance. It's almost like he's embracing the "negative" aspects of himself to produce this great performance. Ben Affleck was made to play Nick. And while I may not have been as crazy for Rosamund Pike as Amy as others were, she still knocks it out of the park, particularly when the truth is revealed. All around, everyone is on the top of their game, and it's crazy that this essentially got no Oscar recognition.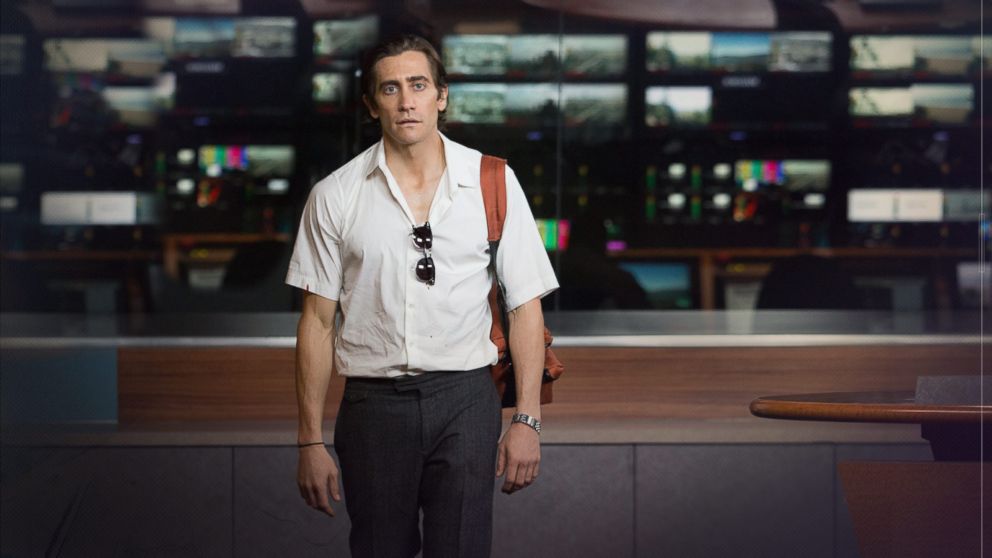 2. Nightcrawler
Again, a film I didn't expect to become as obsessed with as I did. Literally, I watched Nightcrawler by myself and then got my husband to watch it the next day with me again. It's not often I watch movies two days in a row. Even right after I finished the film I didn't think I would think about it as much as I did. Jake Gylenhaal is so perfect in this movie. He walks the line of inner and outer madness with ease and also gets us to be almost sympathetic to him. The story is just so absorbing and different and interesting, you just really can't stop watching! There's not much more that I can say that hasn't already been said. But, as much as people complain about Oyelowo missing out on a Best Actor Nom for Selma, I think it's really Jake Gyllenhaal who had the most egregious snub of the year. And being left out for Best Picture was also disappointing. Nightcrawler is dark, but never gets too dark, and it's a film I wish more people had seen.
1. Whiplash
Would it be any other film? Whiplash is perfection. It's well acted, well edited, well shot, well directed. It's everything. Whiplash is pretty basic in story. It's nothing overly different, or even really that original. But it's something that we can all relate to on some level. Maybe we've never had a teacher like Fletcher, but we all have passions, and we've had to make choices about whether being "the best" is truly worth it. Or maybe you haven't been there, but that feeling is something that is not too far to grasp. Miles Teller was under-recognized for his performance as Andrew, the young student. But it's 3 Oscar wins were the best wins of the night. Almost nothing was better than the Academy rightly giving the Editing Oscar to this film. Never have I noticed (in a good way) the editing in a movie as much as this one. It's quick and jazzy and abrupt, snapping you back and forth, as mentioned by the film's title. This film has so much energy and heart, but it's also so human and relateable that I can't imagine anyone actually disliking this movie. Do people who dislike this movie exist? And if they did, did they even understand it? Whiplash is perfection on film, and is a movie I can dive into again and again and again.