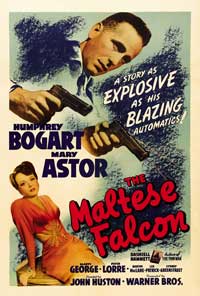 The Maltese Falcon, 1941
Directed by John Huston
Wow, already at the end of another year! I have now finished two years of Blindspot movies and am trying to put together a list for my 3rd year. However, my final film to review is the noir classic, The Matlese Falcon.
The Maltese Falcon is one of Humphrey Bogart's earlier films. He had just come off the success of "High Sierra" and did "Casablanca" right after this film. The Maltese Falcon is a crime film that tells the story of Sam Spade, a PI, who gets in the thick of a bunch of eccentric criminals and the hunt for a fabled jeweled falcon.
To be frank, I actually didn't care a whole lot for the Maltese Falcon, and I feel kind of awful for admitting it. I found the film to be somewhat boring and a little hard to follow. I thought Humphrey Bogart gave a really masterful performance, and I really did think this would be a film I enjoyed. However, it was not to be, apparently, and I feel bad for saying so.
To be honest, I just don't really have a lot of opinions on this film. To be fair, my husband and I were both a little sick when we watched this, so our attention span wasn't the highest, but I don't really remember even all that much about the film itself. Like I said, I found the plot a little hard to follow as it always seemed someone wasn't who you/Sam Spade think they are and things are constantly twisting. That's not to say that this was a bad movie. Maybe if I give the film a rewatch when I'm a little more alert I'll enjoy it, but right now I found it a little disappointing. I'm a much bigger fan of Casablanca (who isn't, though?).
7/10