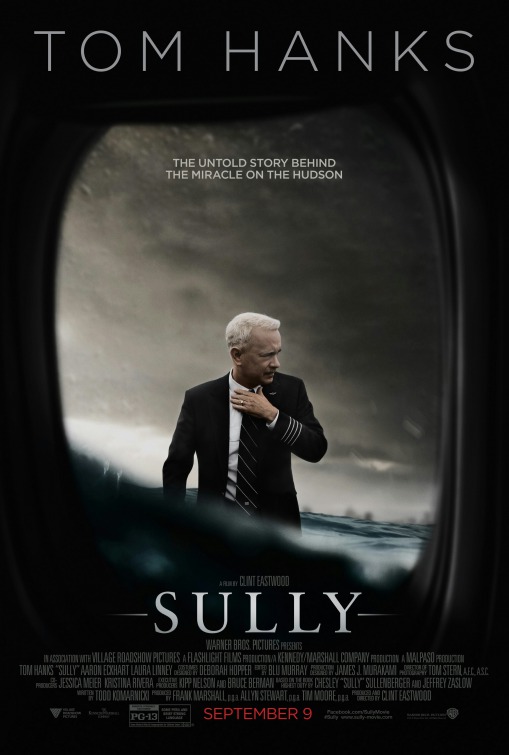 Sully, 2016
Directed by Clint Eastwood
I roughly remember "The Miracle on the Hudson". It was January 2009 and I was in grade 11. I remember hearing about a plane landing on the Hudson River in New York (a city I had just been in a few months earlier) and thinking that was pretty neat. It was a good story! So naturally, I wasn't surprised to hear a film was being made several years later.
Sully is a pretty typical story of a big event that happened. It shows the major event but also deals with the aftermath, and even gives us a little of the beforehand. However, to me, Sully was a slightly roughly chopped film. There didn't seem to be a good flow to the scenes and they seemed to be in an odd order.
The film opens with the days following the "miracle landing". We follow Sully, the pilot of the plane, and how the landing has affected him. He's suffering PTSD and keeps seeing the plane he flew and landed crashing into buildings instead of landing in the river. We go through a few deposition scenes and then suddenly, and slightly unceremoniously, we get the flashback to the crash/landing. The sequence comes about 30 minutes in and lasts probably 15 minutes. We then cut back to Sully speaking to his wife on the phone and we continue with the aftermath depositions and trials, and while Sully is in a bar, seeing himself on TV, we get another long flashback, etc, etc. I think the film could've been better laid out. Either show the entire sequence at the beginning, the entire sequence at the end, or evenly sit in the present and flashback. But this film was just inconsistent in when they would flashback and when they would sit in the "present". It's hard to describe, but it could've been better laid out and flowed better.
Tom Hanks as Sully was an incredibly obvious choice. Just like Captain Phillips, it seems like a role that Tom Hanks has been playing for roughly a decade now. He does a fine job but it didn't feel like we were seeing anything new from Hanks. Undoubtedly Hanks is a great actor, but I feel he's been playing the same role for a while now.
Honestly, I felt like Sully could've been a lot better. The first 15 minutes showed the PTSD of Sully and his co-pilot, which was something I would've liked Clint Eastwood to focus on more. But after those 15 minutes, it's not touched on much at all. The film just touches on a few things like this briefly, but doesn't focus on it throughout the film. There's a lot of interesting pieces here, but it kind of felt thrown together. This film could've been really great, because it's awesome to see some good news sometimes. But this film didn't do the film justice. It felt like there was some created drama just for the sake of having drama (the question of whether Sully made the right choice in landing in the Hudson or if he should've tried to go back to the airport). But it was a fine film, though I don't think it deserves any sort of awards attention. It's a good film that isn't overly creative or original. It's very typical for this type of film.
7/10